Below is an excerpt from an article by Carlton Chin on Managed Futures, Commodities and corresponding indices, including a Liquid Commodities Index and an Investable Managed Futures Index -- as well as Barclays & NewEdge Indices:
The performance of the Managed Futures industry and CTAs (Commodity Trading Advisors) is generally uncorrelated to the stock market and other hedge fund strategies. The year 2011 has seen most CTAs flat- to-slightly down, along with most other investment strategies and asset classes.
Here is a sampling of several Managed Futures industry benchmarks through the end of November:
Barclays CTA Index -3.1%

Barclays BTOP 50 Index -4.0%

NewEdge CTA Index -4.7%

NewEdge Trend Sub Index -8.4%

Investable Managed Futures Index 0.0%
Although CTAs would have loved to achieve positive returns this year – to further its diversification arguments – the Managed Futures industry has already proven its diversification mettle in 2008, when CTAs produced double-digit returns during the start of the financial meltdown. In particular, the Barclays CTA Index was up 14.1% and the Investable Managed Futures Index was up 25.5% in 2008, when the S&P 500 was down -37.0%.
AN INVESTMENT IN FUTURES CAN RESULT IN LOSSES.
PAST PERFORMANCE IS NOT NECESSARILY INDICATIVE OF FUTURE RESULTS.
Managed Futures and S&P 500 Annual Performance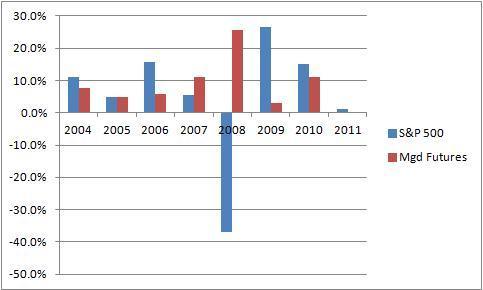 Annual returns for S&P 500 and Investable Managed Futures Index.

2011 Returns are year-to-date as of November 30, 2011.
The author, Carlton Chin,
CFA (CTA and portfolio manager at Adamah Capital)
is a specialist in systematic and quantitative investment strategies as well as dynamic asset allocation. He believes that alternative assets can help diversify traditional portfolios of stocks & bonds -- and improve risk-adjusted returns.
http://seekingalpha.com/article/312307-managed-futures-and-commodities-overview-and-outlook-for-2012
Carlton Chin, CFA, is the portfolio manager for ADAMAH Capital, which specializes in Computer Aided Research & Advanced Technology (CARAT). He is a specialist in quantitative investment strategies, managed futures, alternative assets, global macro & strategic asset allocation. Carlton combines a CTA hedge fund background with portfolio optimization work for institutional investors. He founded Adamah with his long-time friend and associate, George Parr. Carlton has been quoted and featured in the Wall St. Journal, NY Times, MARhedge, Futures Magazine, and Financial Trader. He holds both undergraduate and graduate degrees from MIT.